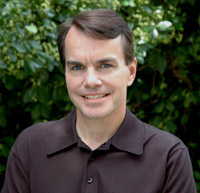 JON CHAPPELL
---
Author, Writer, Editor
---
A senior-level editorial director, well-versed in multiple media formats, offering vision and leadership in traditional and new-media publishing environments.
Summary of Qualifications

• Over 12 years' experience serving in senior editorial roles, managing personnel and meeting regular production deadlines.

• Proven ability to launch new titles and improve existing products.

• Able to manage projects from conception to completion, on time and within budget.

• Equally expert in traditional as well as new-media publishing technologies.

• Experienced in operations of million-dollar business with proven record overseeing key areas, including technology purchasing and operating budgets.

• Professional, prolific writer, able to contribute features, interviews, reviews, and columns on a wide variety of subjects, in B2B, consumer, and technical formats.
Highlights & Achievements
• Produced 20 consumer and trade titles annually, including 12 monthly issues, six bi-monthly issues, and two semi-annual Buyer's Guides.
• Turned around editorial focus of established but foundering title, increasing subscriber and single-copy sales by 46% in 11 months.
• Managed $1.5 million annual operating budget.
• Designed and developed XML-based content-management system for international publishing company, combining text, audio, images, and video assets.
• Published author, including three books in the highly successful "Dummies" series, plus articles in The New York Times and Wired

.



Experience
2000-2002 CONTENT DIRECTOR - MUSIC PLAYER NETWORK
MusicPlayer.com, New York, NY
• Led editorial team to accomplish these objectives:
**Produce daily, weekly, and monthly content for MusicPlayer.com Web site.
**Create custom content for manufacturers.
**Design and write email programs, sponsored seminars.
**Develop XML-based content-management system.
**Produce annual Music Technology Buyer's Guide.

• Coordinated cross-marketing and shared-content programs with the magazines Guitar Player, Keyboard, EQ, and Music & Computers.

• Planned operating budgets and production schedules, managed staff of 15.

• Developed and produced four annual Special Issues.

• Produced Special Projects including booklets, CD-ROMs, and html presentations for manufacturers, publishers, and educators.

1998-2000 EDITOR-IN-CHIEF, GUITAR MAGAZINE
Guitar Magazine, New York, NY
Editor for monthly international (four languages) guitar-based consumer magazine, selling 180,000 U.S. copies per month. Principal responsibilities included managing editorial staff, feature-writing, interviewing artists-such as Lenny Kravitz, Eddie Van Halen, Chet Atkins, Bonnie Raitt, Melissa Etheridge, B.B. King.

Other duties: Creating monthly cover concepts with art director and providing design briefs for cover story and four features per month. Planned operating budgets and production schedules, transcribing and typesetting music from CD's and live performances into camera-ready art. Directed Internet and online ventures: designing Web pages; maintaining and moderating forums on CompuServe and the Web; monitoring online Cybercash and Cybercoin-driven commerce for Guitar Magazine's Web site. Designing and coding multimedia downloadable lessons (sheet music, audio files, QuickTime video) for all styles of guitar playing. Contributing features, profiles, interviews, reviews, and columns on personalities, technology, music and cultural issues (over 400 to date).
1997-2000 EDITOR-IN-CHIEF, HOME RECORDING MAGAZINE
Home Recording, New York, NY
Founder of bi-monthly magazine devoted to home recording, covering issues ranging from digital audio multi-track recorders to home construction. Supervised reviewers and columnists, heading pro-audio department, creating and maintaining test and review standards for instrument and recording equipment. Chief feature writer, and chief consultant for issues on computers and high-tech equipment.
1988-1997 PUBLICATIONS DIRECTOR, CHERRY LANE MUSIC CO.
Cherry Lane Music, New York, NY
Created and produced educational and instructional books, CD's and videos, authored over 100 works which have sold in excess of 75,000 copies worldwide in seven languages. Designed and implemented desk-top production systems for professional publishing and high-volume print runs. Edited and co-produced music textbooks, all-music folios, and general-interest music-subject books (biographies, etc.). Produced CD's and cassettes for book-and-audio products.

---
Author Credits
Blues Guitar for Dummies, Wiley Publishing, Inc., 2006
Build Your Own PC Recording Studio, McGraw-Hill, Inc. 2003
Digital Home Recording, Backbeat Books, 2003
Rock Guitar for Dummies, Hungry Minds/Wiley Publishing, Inc., 2001
Guitar for Dummies, IDG Books, 1999
The Recording Guitarist, Hal Leonard Publishing, 1999
Van Halen: 25 Great Guitar Solos, Cherry Lane Music, 1994
Educational Background
Master of Music, DePaul University
Bachelor of Music, Carnegie Mellon University/DePaul University

---
References available on request.

---
Contact Information